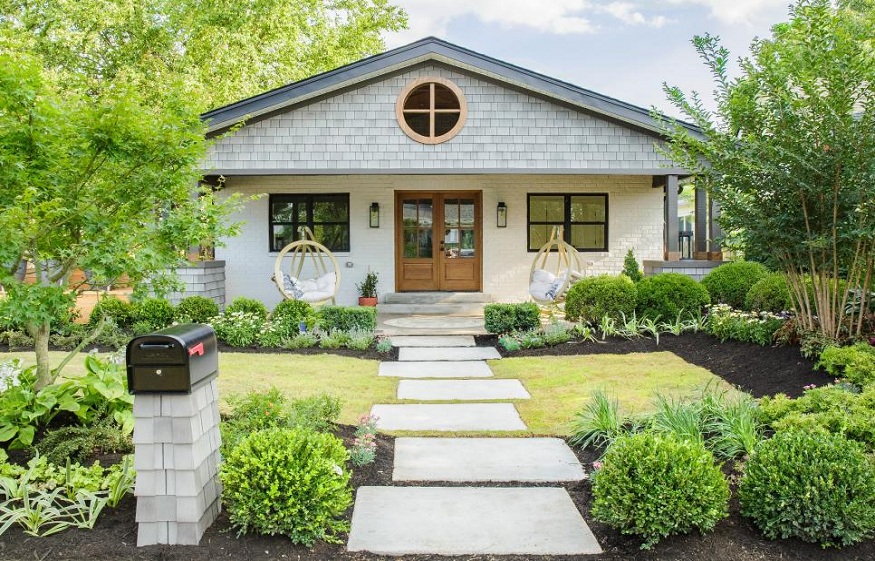 First Impressions Count: How to Improve Your Curb Appeal
 When someone views your house, whether it be on an internet listing or in the flesh, the first thing they will always see is the front of the house. It can take a person just a matter of minutes to decide whether a house is for them or not, so making the exterior of your home as attractive as possible can be the difference between selling quickly and a more prolonged sale.
Paint your front door 
Having a bright, shiny and fresh-lookingfront door can make a real impression on a prospective buyer. The front door is often the focal point of the front exterior so ensuring your front door doesn't look tired and worn is essential.
A distinctive colour could make your property stick in their mind and make the whole property more memorable. If you don't want to change the colour or fundamental look of your front door, you should polish it and make sure any marks are rubbed off and any chips filled in.
Replace old hardware 
Any plant pots, light fixtures or letterboxes that look old or are in a state of disrepair should be replaced. If you want your home to look modern and enticing, plant pots that are past their best may seriously detract from the overall impression you are trying to give off.
When replacing said hardware, try to think about what will match the exterior of your house and fit the style that you're going for inside.
Symmetry is key 
Do your best to make the outside of your property as symmetrical as possible. For some properties, this may be more of a challenge, but ensuring your home is as symmetrical as possible is more appealing to the eye. Symmetry is subconsciously very satisfying and will make your property appear more orderly and organised.
Install external lighting
Many viewings can take place after dark, especially during colder months when people may want to view after work. Having lighting positioned throughout your front garden will light up the front of your property and create a sense of warmth for those entering. This will also help show off other features in the garden and at the front of your home.
For the best landscape lighting, aim to incorporate a few different fittings. Fairy lights can also be a good option if positioned tastefully. Lights that charge using a solar panel will mean you don't have to try and plug everything in and won't wasteelectricity.
Plant aesthetic flowers and shrubs 
If you have space in your front garden, utilise flower beds to their full potential by planting eye-catching, attractive flowers and shrubs that will grab the attention of any prospective buyers. If your garden is neat and well maintained, it will signal to buyers that the house as a whole is well looked after.
On top of this, you ought to ensure that any weeds are removed, and the garden is pruned and looks tidy.
If you don't already have flowerbeds but have the potential to dig some, you should consider getting your gardening gloves out and getting green-fingered. It will boost your curb appeal and make your property stand out from others on your street.
Take bins round the back 
Another great way to subtly improve the external appearance of your property is to make sure your rubbish and recycling bins are hidden out of sight and taken round the back. This is obviously free and a very easy thing to do, but it can have a surprising big impact on the overall curb appeal.
Removing bins helps project an air of cleanliness and removes what is otherwise an eyesore.
Clean your windows 
Mucky windows at the front of the house can really detract from the overall curb appeal. They will make your home seem dirty and uncared for. Hiring a professional window cleaner will give your windows the best possible shine, but this is something you can also do yourself if you are trying to conserve money.
Having clean windows will also make it easier to see into the property, giving you the opportunity to show of your interior.
Replace gutters and downpipes 
A leaky gutter is a terrible first impression for any prospective buyer. Not only does it make the house look poorly maintained, but it may also make prospective buyers question whether there are other things they can't see that will need fixing. A leaky gutter that pours water onto the brickwork can also cause damp which can be costly to get rid of and will turn buyers away.
Investing in new gutters and downpipes is something that hopefully won't go unnoticed by buyers and will reassure them that little work is required.
This article was written by an online estate agent House Sales Direct. If you wish to sell your house fast and for free, then head over to the House Sales Direct website for more property related information and enquiries.