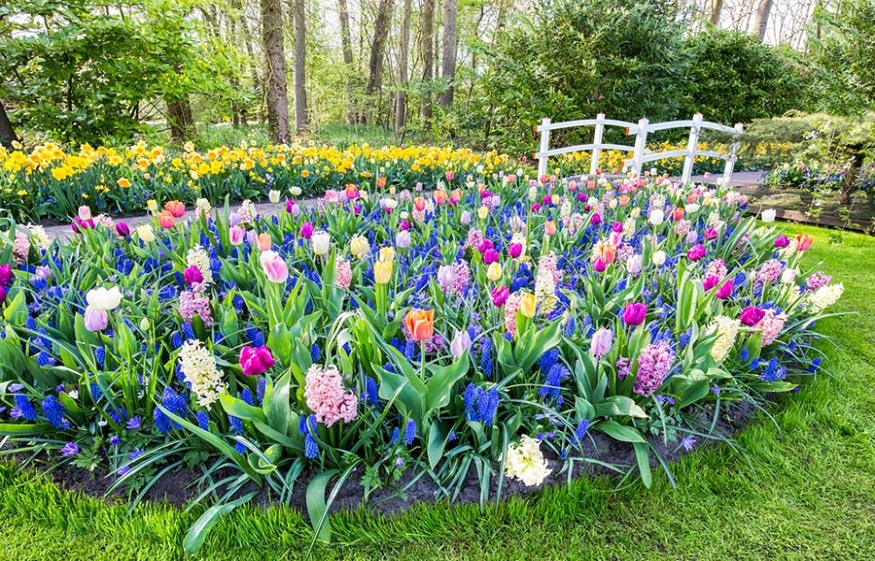 Plant Bulbs in The Fall to Brighten Up Your Spring Landscape
Introduction
Your garden is full of fragrant plants, herbs, veggies, perennials, and other types of plants. However, it's time to prepare your garden for the next spring and plant some new bulbs. You can also search for "landscape companies near me" and hire professionals to jazz up your garden. For now, let's check out bulbs that you can plant in the fall to brighten up your spring landscape.
The Bulbs
1. Fritillaria –
This is an exotic spring bloomer that can become a charming addition to any garden. The flowers have unusual bell shapes that droop down at the end of the long stems. You do not need to worry about them adapting to the local conditions since they naturalize quickly, and you may see a few more the next year.
You don't need to worry about pests either since rodents or deer don't like to munch on this plant. The plant can grow up to 4 feet tall and create orange flowers. You can also find variations that create burgundy, white, or checkered pink flowers. Make sure to plant them in a shaded area and provide a lot of water.
2. Daffodils –
These flowers are the early signs of the spring season. Depending on the variety you get, they may bloom early, late, or mid-season. The variations do not just end at blooming time, they also stretch out to sizes. You can find varieties that grow anywhere from a few inches to a foot tall. These plants require plenty of sunlight and some of them are quite fragrant. The flower also has a unique bell shape with a hoop skirt at the edge.
3. Hyacinth –
If you want your spring blooms to make your garden smell amazing, hyacinths are the way to go. Apart from being beautiful and sturdy, these plants are also reliable and usually stay under the radar of rodents and pests. You can find varieties in all shades of white, yellow, pink, and purple. If nothing else, you can have them in your garden just as sturdy and reliable plants.
4. Crocus –
Similar to daffodils, crocus are some of the first flowers that bloom and announce the arrival of the spring season. These babies can bloom even when there's snow on the ground. However, if you plant these blooms, you need to be careful of digging rodents like chipmunks. They love to dig up these succulent bulbs.
That's why you may need to create a makeshift fence around these bulbs. If you have a rock garden, consider planting them there since it creates an amazing aesthetic with gray rocks and vibrant flowers. You can choose the variants depending on the color you want to add to your garden. For instance, if you want vivid orange blooms, choose the Orange Monarch. For blue and creamy blooms, choose the Blue Pearl.
5. Allium –
Most people are surprised to know that Allium is a form of ornamental onion. If you want to add blooms to your garden and invite a lot of local wildlife these are the best choice. They are loved by butterflies and bees and grow well in full sun. Moreover, critters leave them alone. You may see deer and visiting bunnies hop around in your garden without paying any attention to allium blooms. Its best variant is probably the Pink Jewel. It creates pink blooms with amazing green eyes through late spring to early summer.
6. Bluebell –
When planted in large numbers, these blue bell-shaped flowers make quite a visual impact. Critters and wildlife like deer and bunnies leave them alone and hence you don't need to design any protective measures around them. This plant needs moist soil to grow and prefers shade instead of direct sunlight. The Spanish varieties of these plants create white, pink, and purple blooms.
7. Grape hyacinth –
Think of it as a plumper version of regular hyacinths. This plant is as hardy and reliable as regular hyacinths and has a natural grape scent. They are quick to naturalize and grow up to half a foot in height. They do not attract critters and are best planted at the front of flower beds. Depending on the variety you choose to plant, the plant may need full sun to partly shady conditions to grow to its full potential. 
8. Snowdrop –
As the name suggests, the blooms of this plant look like snow that has fallen on plants and is going through the process of melting. They bloom in the early spring season into delicate and drooping flowers and prefer shaded areas to grow in. The varieties differ in terms of the blooms and the size of the plants. If you want large droopy white blooms, get the Giant version.
9. Leucojum –
Leucojum is also known as snowflakes and has blooms that are similar to snowdrops. These flowers are quite amazing in every way possible. They can naturalize rapidly, can be grown on a wide variety of soils, and can tolerate all kinds of conditions. You do not need to worry about pests either. The hardy plant has delicate flowers that create a mesmerizing aurora when they bloom.
10. Tulip –
Tulips come in all shapes, sizes, and shades. That's why it's almost impossible to just pick one type of tulip for your garden. The flowers bloom from early to late spring while some varieties are annuals. However, they are high maintenance since rodents love to munch on the bulbs and the plants. When you plant tulip bulbs, choose different varieties like Angelique and Striking Match and plant them together to create a pop of color.
Conclusion
The above-mentioned bulbs can bloom into beautiful plants the next spring and add a lot of color and vibrance to your spring landscape. Planting them is easy since you just need to place the bulbs in the hole and allow nature to take its course. However, if things get overwhelming, you can always search for "landscape companies near me" and hire pros to do the job for you.