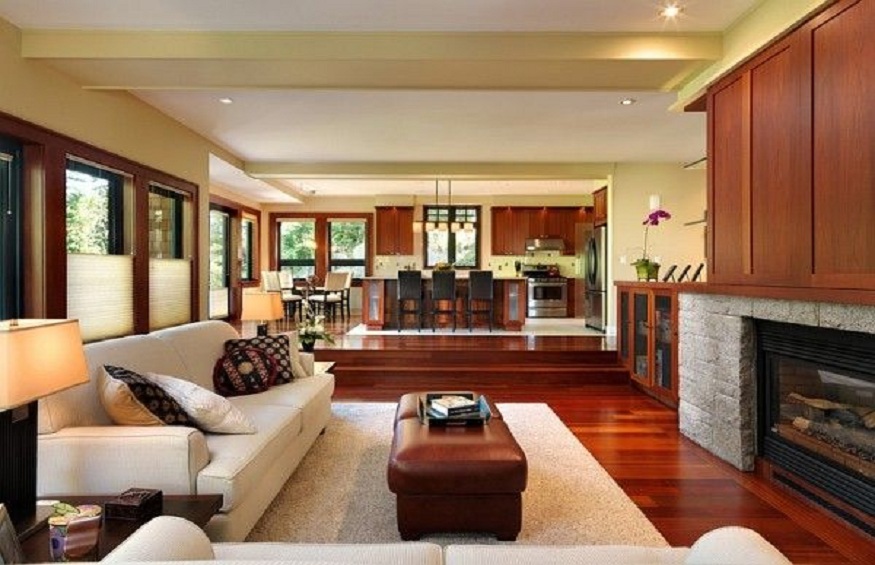 8 furniture items to make your home unique
Modern furniture designers are known for creating colorful, multipurpose, and space-saving furniture that can be readily turned into something different. For example, a bed can be transformed into a sofa, chair, or pouffe based on your requirements. We are a generation that values time and space, so why not purchase furniture items that are unique, classy, and can be used for multiple utilities. In this article, we've gathered eight of the most unique and unusual ideas for furniture items to help you give your home that chic and classy look you've always wanted. We hope that these ideas inspire you to think of new ways to decorate your home!
1. Multi functional sofas-
Multi functional sofas are intended to suit the job requirements of numerous users in the home. They are primarily designed to make working from home more pleasant. The couch allows you to experiment with various work positions in different living room areas. In work mode, users have access to an entire desk space, which they can use as side tables while sitting, relaxing, or watching their favorite OTT series on television.
2. Multipurpose Work desk
Find a work desk with a hutch and a swivel arm that can be easily incorporated with any ordinary task chair. When the table is adjacent to a bed, the swiveling laptop arm allows you to dock your laptop. The desk includes several storage choices, including an overhead cupboard having a sliding door, a narrow shelf, and a pedestal that can be placed to the left or right of the table and has a drawer for stationery and other items. One can work comfortably, either sitting in an office chair or lying in bed in a more comfortable position.
3. Wing back chairs
Wing back chairs offer a premium level of comfort and support. It also adds charm, refinement, and a unique atmosphere to the place. A wing back chair can make a statement in any part of the house and is an attractive feature item that may be placed in a living room, dining room, kitchen, office, or even in the bedroom. However, the living room is the most suited option because it is where most of your family members rest. With its ample dimensions, the wing back chair is the ideal companion to the sofa, adding balance and harmony to the living space.
4. Built-in storage units
Built-in storage units not only use every angle and alcove in a room to give functional storage space, but they can also create distinctive exhibit spaces that add individuality to your family room space. For living room spaces, floor-to-ceiling units can provide excellent storage organization while maximizing available space. Additionally, a platform for displaying unique, personal possessions and decorative accessories and employing your built-in storage to express your family identity can help you personalize the area.
5. Fitted shelves-
Souvenirs and other collect able items can help give your home a distinctive touch of style and elegance. However, displaying them on large shelves and exhibits takes up more area than is necessary. Floating or wall shelves are an excellent choice. They are simply two-by-four boards that may be mounted evenly spaced anywhere you want your display to go. They are simple to position and alter to fit your collectables. You can choose between a plain-looking plank and something more elaborate.
Corners are the least used area of the house. No furniture fits well, and there is always some space. Corner bookshelves are an excellent way to make use of this space. You can determine the height and the number of books you wish to place. This helps you use the available space while eliminating the need for a traditional shelf.
6. Hardwood chaise
A gorgeous handcrafted hardwood chaise combined with rich fabric makes for an ideal piece of furniture for your luxury home. Popular in the 16th century among French aristocrats to lounge and rest during the day, it is currently a must-have item that you may place in your living room, guest waiting area, or gazebo. If you want to invest in hardwood chaises, you must have them in your walk-in wardrobe/dressing room. Take a cue from Netflix's current hit series, Bridgerton, to get an idea about the magnificently styled hardwood chaises used.
7. Indoor and outdoor chairs
A dining chair does not need to be upholstered to be comfortable, especially if you often eat a quick meal and then retire to the living room to relax. Several traditional versions of dining chairs are well-shaped and robust and can be used indoors and outdoors, making them highly adaptable. A set of two to four outdoor-friendly solid chairs can serve as a dining set and patio furniture.
8. Multi functional dining tables
Eating at the kitchen counter will become tiresome, and your family or partner will demand a regular seating space to enjoy a meal. So, investing in one that can serve several functions makes even more sense. Consider how many people you will regularly have around your table or the number of people you can ideally host when deciding on the size. Suppose you can find a version with extendable footings. In that case, you can increase and decrease your table to accommodate your party count. Dining chairs do not have to be one type but can combine styles and upholstery. Instead of buying ready-made combinations or sets, go out and experiment with a variety of styles and materials.
Remodeling a new home can be an exciting but challenging task. Most young professionals who move into rental housing see these spaces as their temporary homes and do not invest substantially in sprucing them up. While some prefer to rent furniture, others are content with empty rooms and improvised setups. Smart, timeless pieces that fit in conveniently, on the other hand, can go a long way and even serve the next generation. Every home should be filled with joy. After a long day at work, you want your house to feel welcome, warm, and joyful. Also, instead of the use-and-throw culture, invest in items you wish to create a relationship with.