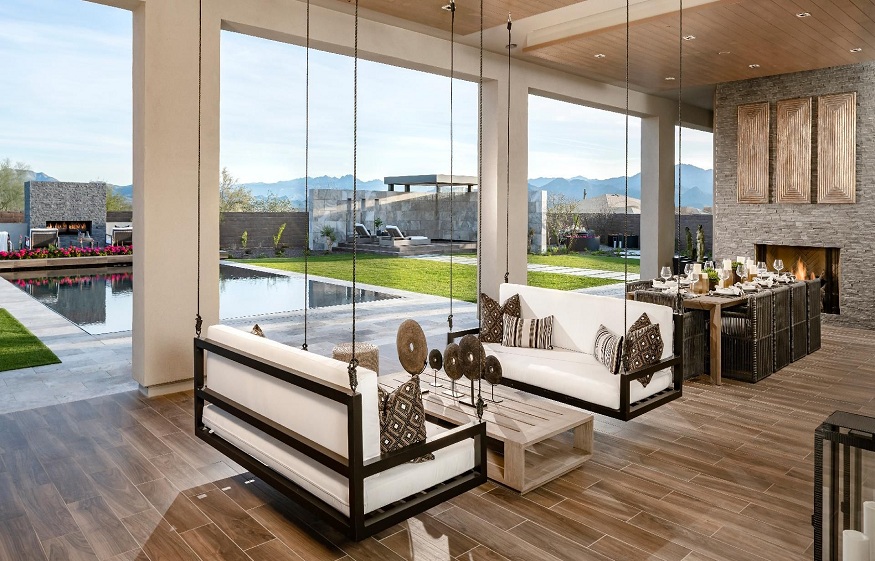 Madison Homes Exterior Design Trends in 2022
While Madison, Wisconsin is a city of vibrant culture and towering government buildings, it is also an area that is surrounded by beautiful scenery.  With two large lakes on either side of the city, there is a very little area that does not have a picturesque view.  Homes in Madison are just as beautiful as their surroundings.  With rich colors, a variety of home styles, and dazzling curb appeal, Madison homes are well-maintained and trendy.  Here are a few exterior home design trends that you may come across in Madison, Wisconsin.
Neutral and Earth Tones
Madison, Wisconsin is surrounded by natural beauty.  Homeowners can mirror the beauty by using earthy colors on the exterior of their homes.  The majority of earth tones are warm and add a sense of calm to a home's exterior.   Common earthy tones are olive and sage, both are deep greens with gray undertones.  Homeowners can also mimic the color of the many lakes around Madison by using any warm shade of blue as their exterior house color.   Rust, deep browns and grays are also popular earth tones.  All earth tone colors pair nicely with soft whites or creams to add a bit of contrast between the main color of the house and the trim.  In addition to earth tones, homeowners in Madison can paint their houses with neutral colors such as soft white and beige.  These colors, while not as popular as earth tones, are classically beautiful especially when paired with dark trim.
Mixed Textures
            You can create visual appeal to your home with a popular exterior paint color, but to truly make your home eye-catching you need to add a bit of visual texture.  Visual texture can be added with the window trim, unique siding options, roofing, and interesting fascia.  Natural materials can add texture to your home while continuing a connection with nature.  Natural stone, brick, and wood are perfect visual texture materials.  Natural stone veneers can be added around front porch columns or as a small section of the main body of the house.  Wood, especially light woods such as oak and pine work well in adding visual texture when they are used as trim around the front door.  For overall texture, you can use narrow or vertical board-and-batten siding.  Finally, an easy and often overlooked method of adding texture is with shutters that will frame your windows and add color and interest to your home.  Where you add material will depend upon the area you are trying to highlight as well as the style of home you have.
Extra Glasswork
With so much beautiful scenery in nearly every area of Madison, Wisconsin, it is not shocking that homeowners would want to increase the size of their windows.  Extra-large windows and floor-to-ceiling glass work will be a very popular way to add dimension to the exterior of your home.  Large windows are particularly noticeable on modern or minimalistic homes with flat fronts and little trim work.  These homes favor full-length windows with little to no trim. Though large windows are often seen in modern homes, they can be used in other types of homes such as traditional and cottage homes.  Extra-large windows in more traditional homes are most often bay windows or picture windows.  These can be flanked by shutters that create a perfect focal point of the home.
Front Porches and Pergolas
            There is no doubt that sitting on your front porch, sipping a warm cup of tea, and watching the world go by is one of the most relaxing things to do.  In recent years, homeowners in Madison, Wisconsin have become more interested in spending time with family and friends on their front porches.  Because of this, the value of a front porch has increased by 61% since before 2020.  You can make your front porch an exterior focal point by painting your front door in a bright eye-catching color like red, teal, or black.  You can also dress up your front porch by adding decorative seating with rocking chairs, Adirondack chairs, or a porch swing.  Finally, a beautiful front porch will have some type of greenery on or around it with large ferns or bright green bushes that will retain their color even in the coldest months.
            If your home lacks a front porch you can add a pergola.  A pergola is an outdoor structure that is made of columns and has a partially open roof of beams or rafters. With a pergola, you have the option of how large or small you would like the structure to be as well as the type of material you would like to use.  Of course, choose a color, material, and style that matches your house.
            Other exterior design trends that are prominent in the Madison, Wisconsin area are natural hardscaping such as stone walkways, large exterior lighting fixtures, and architectural doors.  If you are considering updating your home's exterior you can always speak with a trusted real estate agent who can direct you toward updates that have increased the value of homes in your area.