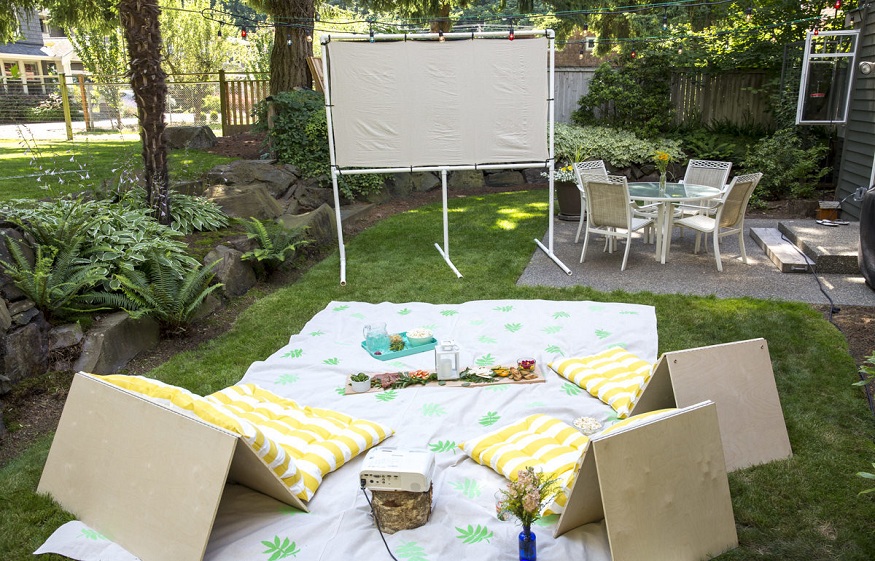 Step By Step Guide to Your Own Outdoor Cinema
Movie night during a warm summer night under the stars cannot get any more romantic and relaxing. If you have ever been to a cinema on the beach, you should know how amazing the feeling is to be able to do that outdoors. Movie theatres are generally very dark and despite their large size, they can feel like rather confined spaces. The experience of an open-air cinema is much different than an actual one. Surely there's nothing like watching your favourite movie on a big screen but doing it in the comfort of your own house can be just as exciting. The privacy, the lack of strangers who annoy you by talking during the movie or constant food crunching in your ear can be some of the advantages to creating your very own outdoor cinema.
It may seem like a much harder task than it actually is so don't be afraid to give it a go. If budget is what is worrying you, keep in mind that there are inexpensive options for everything these days and you could create an amazing and perfectly functional theatre on a budget. Here at House Sales Direct, we have made a step-by-step guide on how to do that so you can enjoy a summer night in your garden with some friends and a movie of your choice.
1.  Find the Ideal Location
Depending on the size and layout of your garden, there might be different ways to position your cinema. It's important that you choose the perfect location for a fully optimised experience. You would want to have even and dry ground in order to be able to place any seating furniture around without it wobbling. Also, making sure that it is in a spot that is protected from any wind or distractions is key. You certainly don't want to be cold or have the screen moving during the movie. Try avoiding places where there are streetlights which may interfere with the visibility.
2.  Choose a Layout
How you position your patio furniture will be of utmost importance in making sure you are comfortable. If you plan to have more people over, you would want to have space for enough chairs, bean bags, sofas or whatever you choose for your seating. Since the screen is never going to be as big as the one at thecinema, it is important to make sure everyone will be able to see it without breaking their necks or backs. What's more, being close to a power outlet is essential as well because without access to it, this whole project won't be able to come to life.
3.  Choose a Projector
The projector may be your biggest investment in your outdoor cinema because they normally tend to be rather pricey. Not only are they expensive, but most of them cannot produce a bright enough image when they're not in a completely dark place like a movie theatre. Recently though, technology has advanced a there are now better options on the market which have bright images but are still very expensive. For a garden cinema the recommended lumens measurement should be at least 3000.
4.  Buy or Create a Projector Screen
The most affordable option for a projector screen is a simple white sheet attached to a flat wall. It's a very popular choice since almost every person has a white sheet in their homes, making it super easy and convenient. However, if you want a sturdy screen, then purchasing an actual one is the way to go. They normally come with a frame and legs which will keep your screen in place even if there is some wind coming into your backyard.
5.   Connect To a Streaming Service
You will need some sort of video playing device to connect to your projector. Whether that is a DVD player, a laptop or an Apple TV box. While the DVD player days are long gone now, it is still an option which some people may choose to go for. However, there are more convenient ways nowadays to connect wirelessly such as the Amazon Fire TV.
6.  Take Care of The Sound
You could potentially use the built-in speaker of your projector but the quality of it is not guaranteed to be the best one. Not only that, but there may be cases in which you won't be able to hear the movie properly, especially if you have gathered more people. Don't forget that there are external noises which could come from the outdoors and disrupt your sound. That is why it is worth adding a speaker through the audio output of your projector to increase its quality and strength. You could choose to go wireless here as well and connect it to a Bluetooth soundbar instead.
7.  Decorate the Space
Lastly, it would be nice to decorate your space in a way that you like, something you cannot expect from an actual movie theatre. They are all the same and really simple in design. You could put up fairy lights, candles, blankets, food and drinks corner, and anything else which could contribute to your comfort.
If you have been looking for a project, setting up a cinema in your backyard is a great way for you and your friends to benefit from it. We bet you are already imagining yourself immersing in the tranquility of this idea so go ahead and start planning! 
This article was written by an online estate agent House Sales Direct. If you wish to sell house fast and for free, then head over to the House Sales Direct website for more property related information and enquiries.