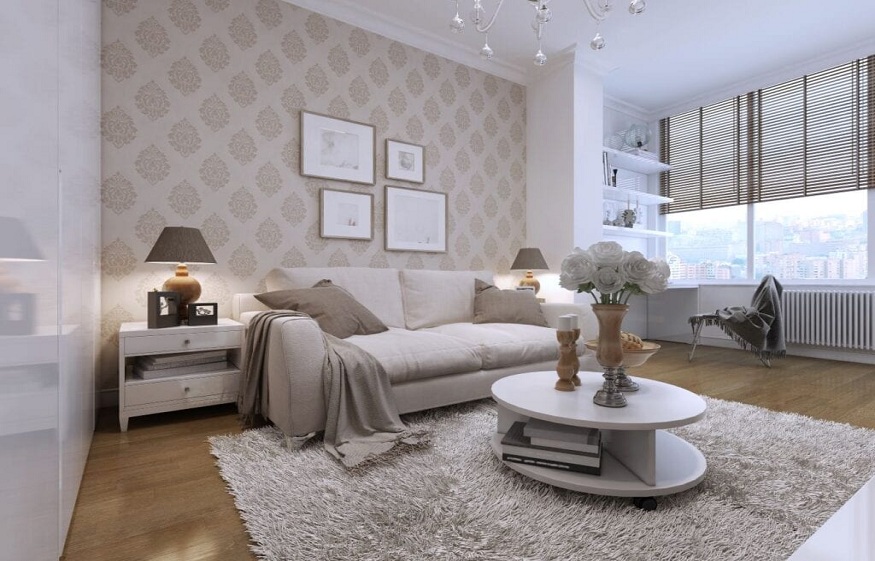 Texture Paints Vs Wallpapers: Which One to Pick This Year
Want to introduce textures into your new home? People who feel like their current home décor is flat and dull and are looking for ways to make their décor dramatic and stylish must consider introducing textures into their walls.
Textured walls instantly add character, dimension and depth to a home. You can add a sense of enigma into your new home by introducing wall textures into it. You can either go for textured paints or textured wallpapers for your new home.
Confused about whether to go for textured paints or wallpaper? Read along to know the advantages and disadvantages of installing both and opt for one that best suits your requirement.
Advantages of Textured Paints 
Textured paints are great for people who want to introduce textures into their space which they don't mind keeping for the next 5-10 years. Hence, textured paint is not an ideal choice for renters as it is not easy to remove.
Textured paints provide medium to high washability so maintaining them is quite easy.
Textured paints are often done by professionals; hence they have a professional finish and instantly make your place scream elegance and opulence.
Disadvantages of Textured Paints 
Textured paints are not cheap, and you will also have to pay for the labour. Hence, opting for textured paints can be a costly affair.
If you want to get a whimsical texture, then we would advise you to not go for textured paints as they are difficult to remove if you get bored with them in the future.
Textured paints are not as effective in concealing imperfections on the walls as compared to textured wallpapers.
Applying textured paints is time-consuming and it is messy too. It can drip on your floors and furniture and cause you to spend hours during the post-clean-up process.
Another disadvantage of textured paints is that they can chip off, unlike textured wallpapers. This means that you will have to touch up the wall every few years to maintain its sheen.
Advantages of Textured Wallpapers
If you are looking for a less time-consuming way of introducing wall textures into your space, then go ahead and opt for textured wallpapers. They are easy to apply and remove and not at all messy to handle.
Textured wallpapers are great for renters as they can remove them easily before they vacate their rented apartment.
One of the best things about textured wallpapers is that they come in a plethora of colours, designs and patterns. This means that you are spoilt for choice when it comes to choosing textured wallpaper for your new home.
Some of the modern textured wallpapers are washable and highly durable. This means that they will last you for at least 10 years if you take good care of them.
Textured wallpapers are best if you want to hide the minor dents, holes and scruffs on the walls and beautify the sore spots of your home.
Disadvantages of Textured Wallpapers
You cannot apply textured wallpapers on uneven walls like brick or concrete walls.
Another major disadvantage of textured wallpapers is that they will get spoilt if there is leakage or seepage on the walls.
In case your textured wallpaper tears down from a corner after a year or two, it is very difficult for you to match the pattern and colour and find the same wallpaper to paste over the torn section on the wall.
Also, you cannot use textured wallpapers in your kitchen or powder room as moisture and steam might ruin them.
Still not sure whether to go for textured wallpaper or paint? Why not let the experts at Asian Paints help you decide what is best for you depending on your budget, usability, and house style?
Visit the Asian Paints website to get your hands on high-quality textured wallpapers and paints at the best price ever.