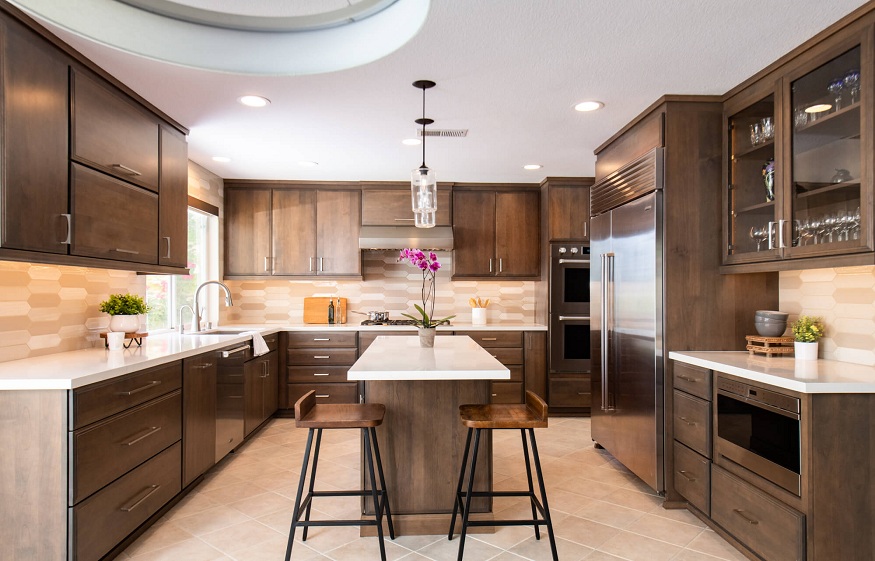 Wooden Kitchen Designs with Modern Twist
In India, the kitchen interior design remains the epicenter of the modern Indian home. Times may have changed, but the love for food remains constant. People want their kitchens to be functional, comfortable, and aesthetically pleasing. Modular kitchens offer a perfect solution for modern lifestyles. They come with fast installation time, excellent organizational solutions, smart space optimization, and user convenience. With a wide range of wood finish options and wooden accents, modular kitchens offer a variety of design choices.
Here are a few wooden kitchen design ideas that can inspire your imagination:
#1 – Bright and Airy Wooden Kitchen
A small kitchen with a bright and airy wooden design can create a warm and inviting atmosphere. Opt for a light wood stain and pair it with white walls, countertops, and tiles to create a fresh and spacious feel. For added light and style, consider installing wooden shelves with inset LEDs. You can also add natural elements such as a bowl of fruit, a tall vase, and some green plants to add softness.
When it comes to the choice of wood, there are many options available, including pine, maple, and oak. Pine is a popular choice for its affordability and rustic charm, while maple is known for its durability and light, even tone. Oak is a classic hardwood with a prominent grain and a warm, rich hue that can add timeless elegance to any kitchen design.
#2 – Nature-Inspired Green and Wood Kitchen
A nature-inspired green and wood kitchen can create a sense of harmony and tranquility in your home. Green shades are a popular choice for wooden kitchen designs as they can evoke the natural beauty of the outdoors. Pair warm wood finishes with soft greens to create a soothing and calming atmosphere.
In addition to the color scheme, you can also incorporate natural materials such as stone, bamboo, or rattan. These materials can add texture and depth to your design while also promoting sustainability and eco-friendliness.
#3 – Appealing Dark Wood Kitchen
A dark wood kitchen can add a touch of glamour and sophistication to your apartment design. Deep-toned wood stains that highlight the natural grain can bring to mind hardwood drawers and cabinets. This wooden kitchen idea looks especially striking when paired with lighter hardwood flooring or checkerboard tiles for a retro vibe.
When it comes to countertops, black or dark grey quartz or granite can create an elegant and modern look that complements the dark wood. You can also consider adding statement pendant lights or a faux chandelier for a touch of grandeur.
#4 – Functional Wooden Kitchen Island
A freestanding kitchen island is a great way to maximize functionality and practicality in your wooden kitchen design, especially if you're short on wall space. An island provides extra counter space, storage, and even a casual dining area. You can choose a wooden countertop that matches the finish of your main kitchen, or go for deeper wooden drawers for added storage optimization.
When designing your kitchen island, consider the size and shape of your kitchen, as well as the desired style and function. A rectangular or L-shaped island can work well in larger kitchens, while a circular or U-shaped island can be a good choice for smaller spaces. You can also incorporate features such as a built-in sink, cooktop, or wine fridge to further enhance your island's functionality.
#5 – Stylish Wooden Peninsula Kitchen
A peninsula layout can be a great addition to your interior designby providing extra storage space and eliminating the need for a separate dining table. A peninsula stays connected on one side to your kitchen cabinets and counters and open on the other side. You can choose modern granite countertops, appealing lighting, and wood finishes to create a luxurious yet functional kitchen space.
When it comes to the design of your wooden peninsula kitchen, you can consider incorporating different textures and finishes to add visual interest. For example, you can pair a glossy wooden countertop with matte-finished cabinets or add a natural stone backsplash to complement the warm wood tones.
#6 – Single Wall Wooden Modular Kitchen
In a wood-themed kitchen with limited space, a single wall layout can be an attractive and practical option. With this layout, all the counters, cabinets, and work zones are on the same wall. To add some more functionality to the single wall wooden modular kitchen, you can add a few accessories such as a pull-out pantry or tall cabinets for added storage. This will help you make the most of the available space and keep your kitchen organized.
Lighting is also crucial in a small single wall kitchen design. Use task lighting under the cabinets to provide ample lighting for cooking and food preparation. You can also add pendant lights or track lighting to create a warm and inviting atmosphere.
Another important aspect to consider when designing a single wall wooden modular kitchen is the choice of appliances. Since space is limited, it's important to choose appliances that are compact and functional. For example, a slimline dishwasher or a small refrigerator can help you maximize the available space without compromising on functionality.