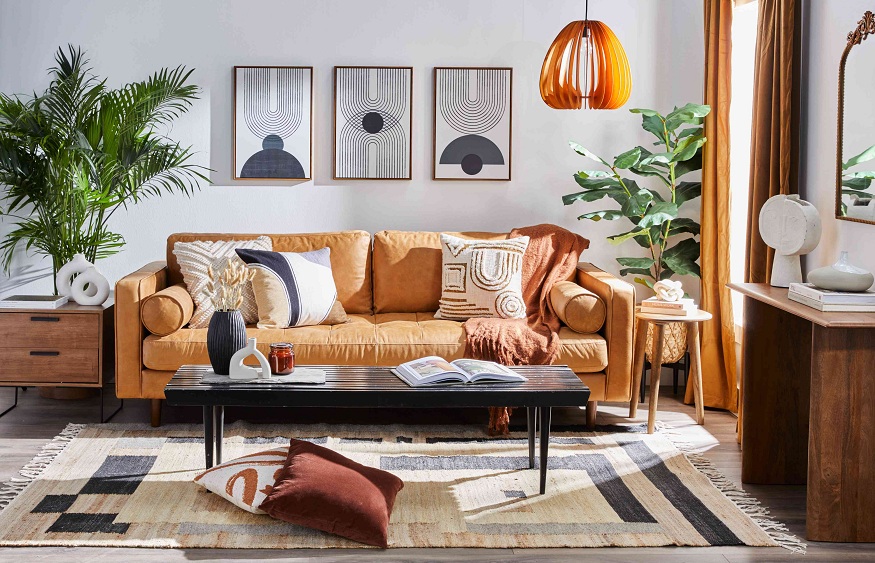 Explore creative sofa set options for your living room
Your sofa set is an integral part of the living room furniture design. It can make any space look filled with fashion and style and you can integrate the other elements of furniture into the room keeping the sofa as the point of focus. It is necessary to strike a balance between comfort and a striking look that can make the living room look more inviting and warmer. From minimalism to heavily rustic looks, you can explore the variety of options that are available in this primary piece of furniture that can transform your living room into a truly aesthetic space.
Sofa Sets– Indian homes are often filled with wooden furniture. There is a whole new sense of appreciation for rooms and homes that comprise rustic and traditional-looking elements as they are soothing. A sofa cum bed wooden can be a fantastic new option to considerthat can allow you to be creative in the interior décor. Adding a set of throw pillows, and linens, and sprucing up the place with plants on the table near this sofa bed can enhance the look.
Georgia 3-seater fold-out sofa cum bed – Modern homes require modern furniture – this 3-seater sofa might be what you need to bring out the contemporary look in your living room. This grey sofa can match perfectly with darker furniture items. You can choose to keep the place rustic and traditional by adding some contrasting elements like pillows or lamps.
Aster 3-seater pull-out sofa cum bed – This piece fits the proper definition of wooden sofa designs. Available in beige and brown color, your living room can also become a comfortable place to sleep as you open the sofa to convert it into a bed. The warm color of this piece of furniture is a perfect match for your existing wooden furniture
Futons– Deemed as one of the most inviting and comfortable places to lounge, futons are slowly making their way into Indian households. The soft cushion, attractive design, space to decorate, and low maintenance makes it a must-have in living rooms. Due to the plethora of options in their designs and cushions, they also serve as a decorative element in the room
Finn Futon Sofa – This variety is present in many cushion colors – you can feel free to opt for the ones that will fit your living room aesthetic perfectly. With a small pillow added to the design, it can be converted into a comfortable place to take an afternoon nap after you watch a movie with your family.
Diwans–Why restrict your living room furniture to simply sofas and chairs? Aim for something different as you explore options. The right diwan cot can make your living room aesthetic even better and it can fit what you are looking for as you strike a balance to find a blend between a couch and a bed.
Sigmund Diwan – Minimalistic and subtle, this is one of the most wanted pieces as it not only looks great but also has a certain appeal to it regarding comfort. You can make this area look more inviting by adding a side table and a lamp over it – now use this place to read and work as well!
Milton Diwan – A more sofa-like option, this Diwan style is on top of the trends with its graceful design. For a more wooden-oriented household, this would be the ideal choice.
Creative sofa options are here – all you have to do is select the ones that are right for the needs of your family members and overall home ambiance.