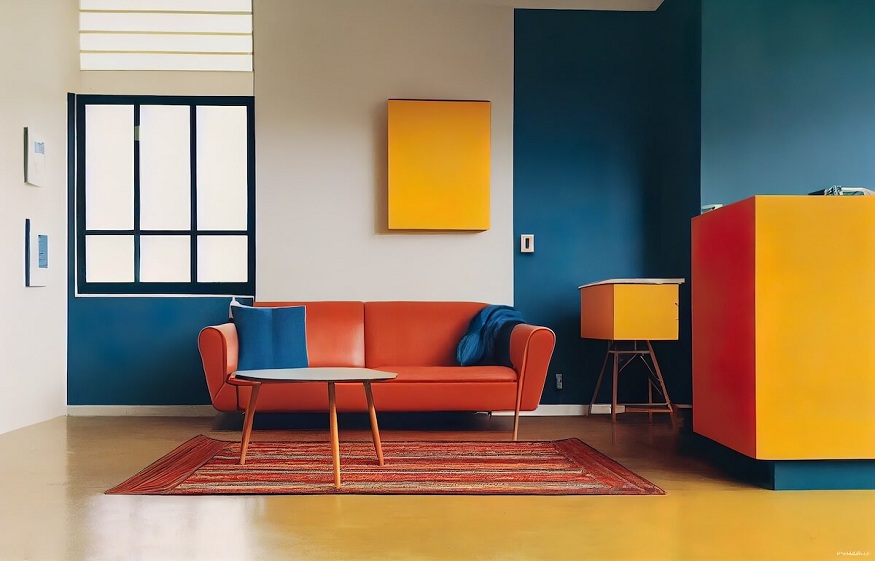 Exploring Bauhaus Style Decor
In the vast realm of interior design, where myriad styles intermingle to shape the spaces we inhabit, Bauhaus stands as a revolutionary movement that has left an indelible mark on the world of home décor including the best peel and stick wallpaper. Rooted in the early 20th century, Bauhaus-style decor epitomizes the perfect amalgamation of artistry, functionality, and modernity. As we embark on a journey through the essence of this design philosophy, we unravel its principles and explore the type of interior design style and Bauhaus home decor ideas.
Understanding Bauhaus Style Decor
At its core, Bauhaus-style decor is a minimalist design approach that aims to bridge the gap between artistic expression and functional living. Born out of the Bauhaus school in Germany during the 1910s, this design movement was a reaction to the ornate and lavish styles of the past. The pioneers of Bauhaus believed that form should follow function, embracing simplicity and rejecting unnecessary embellishments.
The Principles of Bauhaus Style
Minimalism: Bauhaus-style decor champions the "less is more" ideology. Clean lines, uncluttered spaces, and a focus on essential elements define this principle.
Functionality: A hallmark of Bauhaus design is its emphasis on functionality. Furniture and decor items are designed to serve a purpose without compromising aesthetics.
Geometry: Bauhaus incorporates geometric shapes and patterns, lending a sense of order and structure to interior spaces.
Materials: The use of industrial materials such as glass, steel, and concrete is prominent in Bauhaus design. These materials not only symbolize modernity but also contribute to the durability of the pieces.
Colour Palette: A restrained colour palette featuring neutrals, black, and white is a staple of Bauhaus-style decor. Bold accents in primary colours are sparingly used to create visual interest.
Open Space: Bauhaus design embraces open layouts, allowing for seamless movement and a sense of spaciousness.
Bauhaus Style in Contemporary Home Decor
Despite its origins in the early 20th century, Bauhaus-style decor remains relevant and influential in modern times. Its emphasis on minimalism and functionality resonates with the contemporary desire for streamlined living. Here are a few ways you can incorporate Bauhaus elements into your home:
Furniture Selection: Opt for furniture pieces with clean lines and simple geometric shapes. In this type of home interior design style Bauhaus-inspired sofas, chairs, and tables can be the focal point of your living space.
Colour Contrast: Use a neutral backdrop for walls and floors, and introduce pops of primary colours through accents like cushions, artworks, or decorative objects.
Lighting: Choose lighting fixtures with a sleek and functional design. Pendant lights and floor lamps with geometric forms can infuse a touch of Bauhaus aesthetics into any room.
Open Layout: If possible, create an open layout that allows for fluid movement between different areas of your home. This not only adheres to Bauhaus principles but also fosters a sense of connectivity.
Art and Decor: Hang abstract artworks or prints that emphasize geometric shapes and patterns. Consider adding a bold rug with clean lines to anchor a space.
Functional Decor: Incorporate decor items that serve a purpose. For instance, a minimalist coat rack or a modular shelving unit can be both practical and visually appealing.
In conclusion, Bauhaus style decor is a testament to the enduring power of design philosophies that prioritize functionality, simplicity, and artistic expression. Its legacy lives on in the contemporary landscape of home interior design, influencing the types of interior design styles and home decor ideas. By embracing the essence of Bauhaus, homeowners can create spaces that seamlessly marry aesthetics with practicality, resulting in environments that are both visually captivating and highly functional.