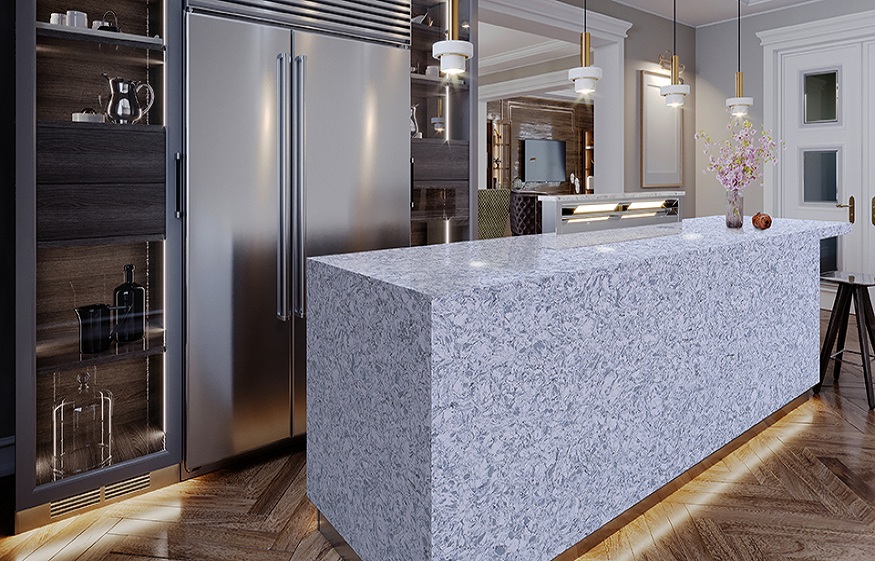 Quartz Countertops: Why Should You ConsiderIt?
Your house is your beloved place and you do want that every corner of your house is good and tasteful. Now, selecting the right countertop for your freshly remodelled kitchen or bathroom is quite fun! However, it would not be wrong to say that it is also serious business because it is going to be a huge investment. It is even a commitment that might even lastover twenty-five years or more. You can certainly choose good options like quartz stone countertops for your space. After all, at the end of the day, it all boils down to your choices, preferences, and expectations.
Why quartz?
Well, quartz is one of the most popular and loved choices for the present-day countertops, as it's a high-quality, lavish material. Unlike other luxury surfaces, quartz is definitely an engineered slab. This opens up a fresh world of possibilities in form as well as function! Quartz countertops are quite tough and even durable, and have many characteristics that busy families are going to appreciate. No material is ideal, though. It is absolutely critical to consider both the benefits and even limitations, so you can be sure you've chosen the right countertop for your lifestyle and even taste.
Great durability
Once you install a quartz countertop, you are going to get an extremely strong, tough surface material that can simply stand up even more than twenty years of use by your busy family. It is absolutely resistant to scratches and even chips, and since it is absolutely waterproof, it also resists stains and any sort of water damage. In fact, you know what, this is one of the main reasons people choose quartz countertops. They are not simply completely indestructible, you should still make use of cutting boards, wipe up spills swiftly, and use trivets to simply guard against hot pans and dishes. Because of the impressive durability of quartz countertops, manufacturers issue generous types of warranties too against manufacturing defects and damage. Hence, once you go for these options for the countertops, you are going to get utmost durability. After all, you would want yourcountertops to work for years and even longer!
You get appearance consistency
Quartz countertops are manufactured types of surfaces made with real quartz crystals, even along with other sorts of minerals and pigments, bound together with a resin. Therefore, each piece appears the same. When you select a quartz countertop, you can be assured that the countertop that is there in your kitchen or bathroom is going to look just like the one you witnessed in the showroom. This is not really the case with natural materials such as marble or even granite. Patterns and colour, such as the veins in natural marble, even might vary considerably between slabs. To get exactly the appearance you want, you need to select the actual piece you wish to get. The point is you can speak with the experts and find out what they have exactly for you keeping in mind your preferences and taste.
You don't have to maintain much
Once selecting a countertop, one of your most important and critical questions should be this: how much work is it going to take to maintain? Natural stone countertops range in difficulty once it comes to keeping them looking their utmost and best, but all require to be sealed on a regular basis. In the absence of the sealing, stone countertops are porous and even prone to water damage and stains. Quartz does not simply have this problem. It never really needs sealing — it's always waterproof and even non-absorbent. Natural stone countertops also require some or the other sort of special cleansers, with a neutral ph., that are formulated specifically for that purpose. With quartz, any sort of nonabrasive, mild cleanser is going to do.  So, the point is with the option of quartz countertops, you have to do less maintenance. Speak with the quartz manufacturer in India and find out what suits your space the best!
Amazing colour options are available.
Whether the quartz is a quarried slab or even an engineered solution, virtually any colour is an option with that of a quartz countertop. It makes it a reasonable investment for new construction or even that of for the ones who are upgrading or remodelling their beloved kitchen. The point is simple‌ you get the tone of the colour you want. You can create a feel in your space that you desire as there are all shards that you may look for in the quartz. Hence, your countertops are going to enhance your space impressively. You do not have to make peace with what you get because you have the variety to choose from.
An aesthetic option
When you have a house, you want it to look good, feel great and stay clean. But with countertops, you hardly think about the aesthetics. You have no idea how you can find different colours and designs in the realm of countertops. You can be sure that you get the feel and touch that you seek for your kitchen or even bathroom. The point is you would not have to compromise with the overall appearance of your space because if you choose well, the quartz is going to complement your space immensely. After all, when you stay in your kitchen for most of your day, you do want the space to look lively and pleasant. The same goes for your bathroom, if you are considering the countertops for your bathroom, you may wish it to be really charming and pleasing!
Conclusion
To sum up, you can speak with the Quantra quartz experts and find out what is going to be perfect for your space. Since there are so many options, their guidance for making a sensible choice. After all, when you are spending your money, look for only the best outcomes.