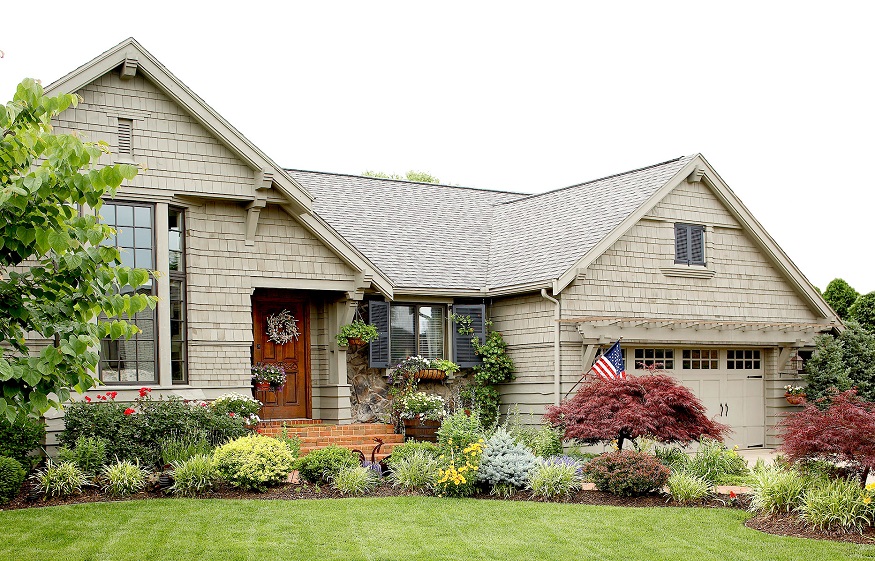 How to freshen your curb appeal this winter
The sun may not be shining quite as bright during the winter months but that doesn't mean your curb appeal needs to lose its glow.  If you are selling your home this winter you'll want to keep up your curb appeal.  75% of real estate agents believe that well-landscaped homes are worth 1% to 10% more than homes with less than stellar landscaping.  Fortunately, even during winter, freshening up your curb appeal doesn't have to be a daunting task and can be done rather quickly.  With just a bit of work and a few updates your curb appeal will shine through even the darkest days of winter.
Remove Snow
The absolute best way to freshen your curb appeal throughout the winter is to keep your driveway and walkways free of snow and ice.  Pockets of slushy snow covering a walkway will quickly make your house look unkempt.  Invest in a snow shovel or snow blower if you don't already have one.  Also, keep extra ice melt on hand for when the snow shifts to ice.  Snow removal isn't the most exciting household task and it can be laborious depending on how much snow falls in your area, but according to a large percent of top real estate agents it is the best way to keep up curb appeal.
Update Your House Numbers and Mailbox
In addition to basic maintenance, you can spruce up your outdoor area with a few simple decorating tricks that will withstand even the coldest of weather.  An easy update to the front porch is a changeup of house numbers.  Extra large house numbers are always an interesting addition to a front porch as are decorative tiled numbers.  Anything that will add character to your home should also fit your home's style.  New house numbers can also be added to your mailbox since those face quite a bit of harsh weather throughout the year.  If you are interested in really sprucing up an old mailbox you can give yours a deep clean or swap out an entirely new one.  Just like the house number you should try to match your mailbox to the style of your home.  But don't be afraid to choose a mailbox with bright colors or an interesting design as either will add color to a dreary winter day.
Add Some Greenery
So the snow has covered your lush lawn, but that doesn't mean you can't add a little green on your own.  Evergreen bushes and shrubs are a great way to add varying shades of green without much work.  Most evergreen shrubs like boxwood, mountain laurel, bearberry, and blue holly can be planted and left alone aside from the occasional trim.  If you aren't interested in planting you can always purchase pre-potted shrubs.  Look for wood box planters or thick cement planters that won't crack during the winter.  You can also add topiaries around your front door.  These add a crisp green pop of color as well as a variety of designs when trimmed properly.
Invite in the Birds
Nothing says winter like the sight of a bright red cardinal against a yard of glistening white snow.  You can attract birds by adding a few birdhouses and feeders to your yard.  Birdhouses come in a range of size and colors with as much or as little decoration as you desire.  Feeders have many of the same options and can easily be hung from a thick tree branch or posted in the ground.  Add string lights around the pole for a soft glow or suspend them from the tree branches for a twinkling display.
Add a Cozy Sitting Area
The indoors aren't the only place where you can incorporate furniture.  There are plenty of weather-resistant outdoor furniture options that will instantly add character to your front porch.  Adirondack and rocking chairs are always classic hits for outdoor furniture.  A small table centered between two chairs will make the area more inviting.  So will a few well placed weather resistant cushions or throw pillows.  You can also add a lantern or two around the chairs for the benefit of well-lit evening seating.
Add in Accents
Extra tricks to freshen your curb appeal area as simple as hanging a wreath on your front door or placing a decorative welcome mat.  Wreaths can be simple evergreens or extra decorative with ornate ribbons and festive winter ornaments.  Strands of garland placed over the front door or around porch railings will have the same understated elegance as a well placed wreath.  You can add a warm glow to your porch by purchasing pre-lit garland.  Even small additions such as decorative garden ornaments and hanging lanterns will create color and warmth to your home.
Freshening your curb appeal for the winter doesn't need to be a daunting task.  Simple and effective placement of decorations coupled with well cared for walkways will make a huge difference to your home's curb appeal so that when buyers begin their search your home will be sure to catch their eye.