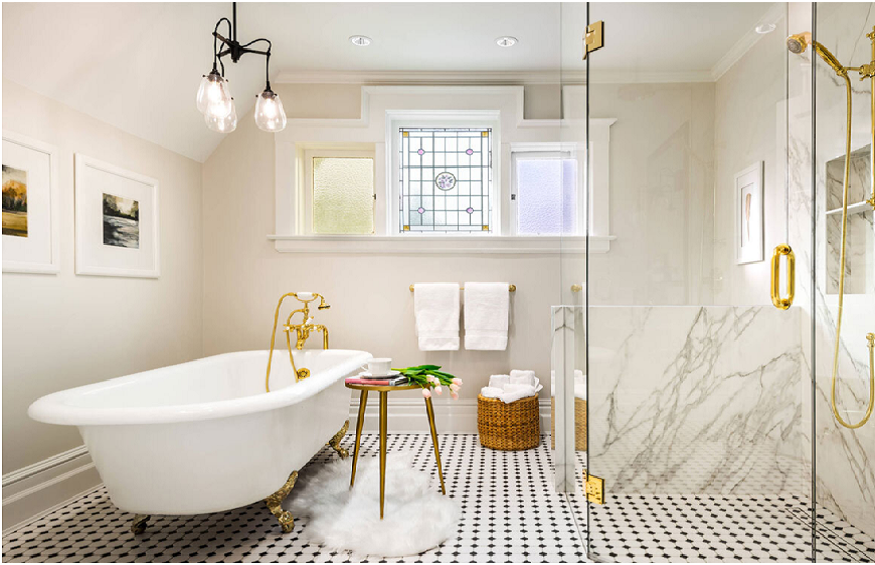 Bathroom Design Ideas to Inspire your Next Bathroom Renovation
Are you searching for bathroom renovation ideas? Whether you want to make small upgrades or go for a complete overhaul, bathroom remodeling makes a great difference in the feel of your home!
However, selecting a brand-new look is not always simple!
This blog has gathered top bathroom remodeling ideas that will inspire your next bathroom renovations project.
Read below to Discover Some Great Bathroom Design Ideas!
1. Open Plan
The bold and minimalist open plan for bathrooms comprises pivoting glass doors that can be left open for maximising light and airflow from the wrap-around windows and can even shut to avoid any shower splashes. The double shower heads will be directly installed on the opposite sides of the self-enclosed washroom as this helps to keep the focus on the tub and the view.
2. Double Mounted Wall Sinks
Not every bathroom requires a built-in vanity, and if you want your bathroom to have an edge, double-mounted wall sinks are an excellent choice! These sinks are perfect for families with children as they are kid-friendly and give your kids enough individual space when using them.
3. Wall Tile
Covering the bathroom walls with floor-to-ceiling stone or tiling has become increasingly popular. It is even a practical trend from the cleaning perspective, with the visual advantage of drawing the eye upward to make the bathroom feel more spacious. The plane shower tiles can even run to the ceiling to create a good contrast.
4. Lighting
Installing good lighting must be an essential aspect of your bathroom remodeling project. Bathroom lighting can be harsh and even unflattering. To avoid this, you can incorporate LED backlighting that adds a glamorous touch to a sleek built-in wall-to-wall shower. The ambient lighting creates a soothing glow for nighttime showers and adds another layer of lighting in spaces lacking natural light.
5. Upcycled vanity
When selecting a bathroom vanity, you can consider upcycling a vintage or antique wood piece of furniture and adding a sink and waterproof countertop. This adds a unique and personalised touch to your bathrooms.
6. Industrial partition
You should not feel obligated to stick to one style for your bathroom renovations. You can incorporate multiple styles to make your bathroom reflect your personality and style. Adding an industrial partition, you can add soft contracts to the bathroom's delicate, polished decorative features like patterned tile and floral wallpaper.
7.  Walk Through
If you have a long and narrow corridor-style bathroom, you can leave the central alleyway clear for ease of circulation and keep the sightlines clear. The walk-through adds a touch of freshness without drawing too much attention.
Conclusion
If you are you looking for bathroom and kitchen renovation services then Kaizen Build offers you this services. We built spaces to last and take care of everything from initial design to installation and completion.