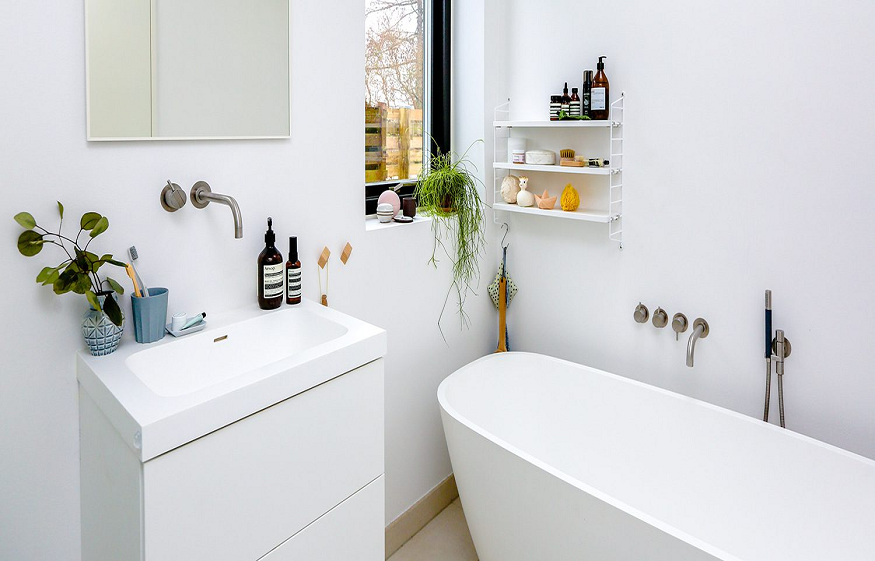 How to Declutter Your Bathroom
Have a look at your bathroom. If there are a lot of beauty products and cleaning supplies that don't use, it is time for a makeover. Why? You spend time in this spot getting ready every morning. Clearing out the area eliminates clutter and frustration. You will feel better whenever you walk into a clean, organised bathroom. Besides, a neat bathroom can be pleasing to the eye and relaxing, allowing you to start your day stress-free and productively.
Why is Decluttering so Important
Undoubtedly, decluttering has many benefits. It helps to create a relaxing atmosphere. You can achieve a more peaceful mind state by having an orderly and serene bathroom area.
A cluttered bathroom can feel chaotic and overwhelming. You only realise it once it becomes unfunctional and filled with toiletries. Decluttering makes your space organised, calm, and clean. A clutter-free bathroom is also easier to clean, and bacteria and mould are less likely to grow. By removing all the unused items, you will have more space to store your things and arrange them beautifully.
Decluttering doesn't necessarily mean disposing of everything. It involves identifying what you need and use and finding storage solutions that fit your needs. Decluttering your bathroom improves hygiene, safety, visual appeal, and storage efficiency. It positively impacts your daily routine, creating a functional space for personal care.
Easy Ways to Organise and Declutter Your Bathroom
The bathroom can quickly become cluttered if neglected for too long. The good news is that decluttering can be easy with proper organisation and effective bathroom storage solutions. You can easily make your bathroom more inviting and elegant with simple tips.
Organising the bathroom may seem overwhelming initially, but it becomes less daunting once you create a checklist and break the process into steps.
Start With The Bathroom Cabinets
First, empty all cupboards to find out what you store in your bathroom. Create a list of everything you have and decide what to save, give away, or get rid of. Make the most of your bathroom storage by decluttering. Organise the medicine cabinet. If there are any expired medicines, you should get rid of them as they will take up space.
Sort Items by Category
Bathrooms are usually multipurpose storage spaces for cleaning supplies, meds, personal care items, and towels. Organising things by category and eliminating items from each category is an effective technique for decluttering. Sort the products into subcategories based on types and where you plan to store them. Find a place for each product. It's important to have designated areas for specific items, such as a drawer for your makeup and a shelf for your towels. Follow these tips to stay organised and find what you need more quickly.
Dispose of Old and Unused Toiletries
Remember that most beauty products expire after a particular time. Check all toiletries stored in your bathroom and discard anything out of date. Consider what you need and use regularly. Keep your favourites and get rid of excess items!
Store and Hide Cleaning Products
Store and hide cleaning products in your bathroom so the kids and pets cannot get to them. You can place them in a separate cupboard to make the bathroom look more appealing and stylish. Check your cleaning supplies. Toss those that you no longer use. Combine multiple products of the same product in one bottle.
Organise Bathroom Counters
Keep only those products on the bathroom counter that you use daily. It would help if you separated the things you use daily, such as sоap, toothpaste, and toothbrushes, from those you do not regularly use, such as first-aid supplies. Find a place for them in a cabinet where they won't create a visual mess in your bathroom. The key to good bathroom counter organisation is to keep as few items as possible. By doing this, it becomes easy to clean the counter, and there is less chance of clutter accumulating.
Deep Clean
When you prepare the items for decluttering, it's the right time to give your bathroom a deep clean. Pay attention to details such as removing stains, disinfecting surfaces, and scrubbing the sink and shower. Remove any dirt before storing items in cabinets or drawers.
If you want a professional touch, hiring expert cleaners is an option. You will save time and effort. Moreover, they know the proper cleaning methods and have long experience in this field.
Simple Storage Solutions
Install a shelf above the bathroom door. Besides hooks attached to your bathroom door for towel storage, you can also turn the top of the entry into a mini storage unit. You can store extra toilet paper rolls, soaps, shampoos, and other supplies on the shelf.
Create extra shelving space by leaning an old ladder on the wall, even though you can find all types of cabinets and shelving in stores or online. DIY storage solutions are much more fun and allow you to personalise your space. Attach storage baskets or hang towels on the ladder. It's also convenient because it takes up less space than an additional cupboard.
Remember that once you've decluttered and organised your bathroom comfortably and functionally, maintaining it shouldn't be challenging, but it'll require some effort. Always try to return items to their designated places after using them.
Conclusion
Decluttering is the first step in organising your bathroom. It is unnecessary to emphasise how important an organised bathroom is. Getting rid of clutter doesn't have to be a hassle. With proper organisation, you will achieve satisfying results. You can start slowly and organise your bathroom item by item. Choose which possessions to discard, give away, relocate, and keep. You will eventually make each corner more functional and clear of clutter. None of these tips is time-consuming, but each one will help you reduce the clutter.
Keeping your bathroom clear of clutter is for more than just aesthetic reasons. It's also about your well-being. So next time you're overwhelmed, start to declutter your bathroom. You probably be surprised at how positive you feel once you've done that!